BIOGRAPHY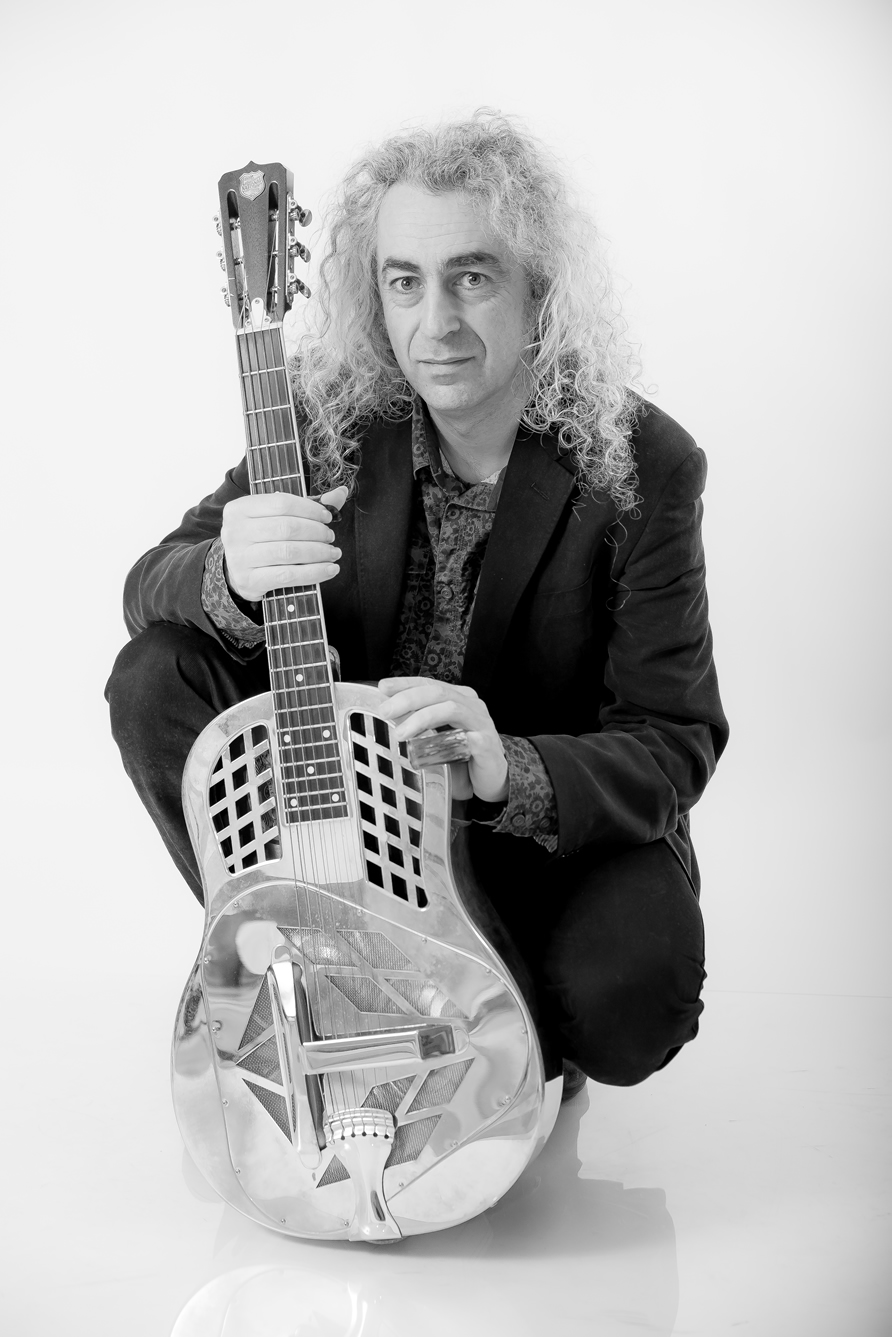 Frank De Franceschi divides his musical passion between blues guitar and percussions.
He recorded 5 CD's (one of them selling 40,000 copies in Japan) but since '88 his main activity as a pro has been playing live. Constantly on the move he brought his music all throughout Europe, Hong Kong, India, Canada and in the whole south of the States.
He called his home London for 4 years; he has played for nine years with Californian ace harmonica player Peter Glaser (winner of '87 Hohner World Blues Contest). He has played in jam session with many musicians, from the unknown to some well known names, such as Johnny Mars, The Blues Band, Stevie Ray Vaughan, Carles Benavent, Mose Vinson. He opened for Paul Millns and John Mayall, and as a solo act for Tommy Emmanuel, Frank Vignola, Monty Montgomery and Tony Spinner. Recently he played at the Montreal Guitar Show in 2009 and 2011.
He plays as a solo acoustic act, in an electric trio and in "Calcutta connection", a duo exploring indian music along with tabla maestro Dilip Majumder. He has been playing flamenco percussions and slide resophonic guitar in the flamenco company Mimbrales for many years. He has held flamenco rhythm seminars and played in quite a few recordings, particularly playing the resophonic guitar and cajon.
He is an endorser of Canova Guitars, with his "signature" acoustic model. He also endors Pearse Strings and Diamond Bottlenecks.
Mainly self taught, with the time he took lessons from Antonio Ongarello, Lasse Johansson, Woody Mann, Mike Dowling.
As a percussionist he has concentrated on the cajon and the tabla. He studied Darbouka with the late Egyptian legend Ibrahim El Minyawi and has been studyin' tabla with maestro Dilip Majumder. In 2008 he studied tabla and indian rhythm in Chennai under the guidance of maestro Anil Kumar.
"Keep on doing it. You groove!" (Tommy Emmanuel)
"You are an original guitar player" (Buddy Wittington- John Mayall Band)
"Frank, you are a great player, let's go for the Soul!" (Tony Spinner)
"Here's a man who knows what rhythm is all about" (Mike Dowling)
"He does interesting Music" (Bob Brozman)